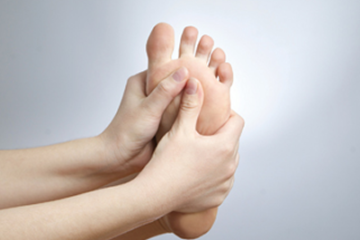 Posted on
Put Your Best Foot Forward into 2020
Leave your aching feet behind in 2019! The turn of the decade calls for a New Year's resolution that you stick to and why not make it your health and wellbeing? We offer a range of services but your feet are a major factor in your day to day comfort. Tired, aching, or even injured feet can make you irritable or even miserable.
You shouldn't have to plan your life around when you're next going to be able to sit down and put your feet up – and not in the relaxing way. If you're still not sold on podiatry, we've answered some FAQs for you below:
What is the difference between chiropody and podiatry?
There isn't one! These word are interchangeable.
Is podiatry only for people with diabetes or the elderly?
No, podiatry can help anyone of any age and health that experiences foot or lower body pain.
How do I know a podiatrist is reliable?
We are members of The Society of Chiropodists and Podiatrists here in the UK and we recommend you only visit podiatrists that have this membership or membership to another reputable organisation.
What is involved in a podiatry appointment?
Initially, your podiatrist will conduct an assessment of your feet and legs. They will be looking for any muscle weakness, over or under sensitivity, limitations in the movements of your joints, and the way you walk. All of these factors could be leading to painful feet.
Your podiatrist will then painlessly treat and manipulate your feet, functionally as well as cosmetically, and finish with a therapeutic massage. You will be offered advice on a treatment plan or how to look after your feet at home depending on the severity of your condition.
If you're uncertain you qualify for a podiatry appointment or have any concerns, please call us on 0191 284 9111 for your free 15-minute phone consultation! You can also book an appointment through our website here.