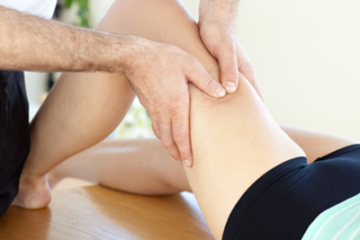 Posted on
Top Sports Injuries
You might believe that your beloved sport of choice is without risk; nothing but a harmless leisure pursuit. We hate to be the party-poopers here but the fact is, even the smallest incident can, from time to time, result in some nasty lingering sports injuries. Fortunately, Gosforth Physio is revealing how they don't have to mark the end of the road for exercise enthusiasts.
The Top 5 Rankers
It seems there are some accidents that sporting fans simply can't avoid. Taking the top spot is the old familiar ankle sprain, all too easily acquired and closely followed by groin pains, hamstring complaints, knee injuries and that old classic, tennis elbow. Of course, these conditions are down to a whole medley of factors, from genetic susceptibility to the high-impact nature of a patient's preferred sport. From professional competitive athletes to casual walkers, sports injuries can strike unexpectedly.
Prevention is the Best Cure
It might sound preachy, but prevention really is your best option. For those of you currently struggling with a sports injury, this nugget of wisdom may be too much to stomach. That said, having sustained an injury once, you're far more likely to see a recurrence. In this way, adopting a preventative approach is vital. Before exercise, begin with a gentle stretch and warm-up session helping to increase blood flow to your muscles. Also learn to take it easy, recognising when your body is fatigued and giving it a much-needed opportunity to heal.
The Treatment
For those of you in the midst of a sports injury, all is not lost. From sprains and strains to stress fractures and back pain, our Newcastle sports injury clinic has the solution. By carefully assessing your musculoskeletal injury, our professional physiotherapist crafts a bespoke rehabilitation programme to relieve your complaint and restore strength and stability. Alleviate your sports injury with the help of our Newcastle physiotherapist. Get in touch with our friendly team on 0191 284 9111 to book or take a look online for further information.