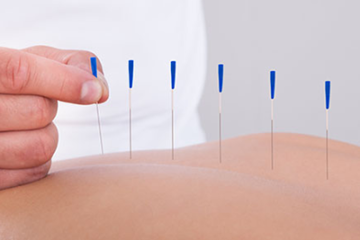 Posted on
In our latest blog, we've outlined some of the main benefits of dry needling in Newcastle, including how it can contribute to your overall wellbeing.
Dry needling, a specialised technique within physiotherapy, has gained significant popularity for its potential to alleviate pain and enhance muscle function. This minimally invasive procedure, offered by our advanced physiotherapists at Gosforth Physio & Wellness, involves inserting thin needles into specific trigger points, targeting knots or tight bands in muscles. Below, we've outlined some of the main benefits of dry needling in Newcastle, and how it can contribute to your overall wellbeing.
1. Pain Relief: Dry needling aims to release tension and reduce pain by stimulating trigger points. These points are areas of increased muscle activity often associated with discomfort or pain. The insertion of needles encourages the body to produce natural pain-relieving chemicals, helping to soothe the affected area.
2. Improved Muscle Function: Muscular issues such as tightness and knots can hinder your range of motion and overall muscle function. By targeting these trigger points, dry needling helps release muscle tension and promotes better muscle flexibility and coordination. This can lead to improved movement and decreased risk of injury.
3. Faster Recovery: When used in conjunction with other physiotherapy techniques, dry needling can accelerate the recovery process. By reducing muscle tension and promoting blood flow, the body's natural healing mechanisms are activated, facilitating quicker rehabilitation from injuries.
4. Management of Chronic Conditions: Dry needling has shown promise in managing chronic conditions such as fibromyalgia. By addressing the underlying muscular issues, patients can experience relief from persistent pain and discomfort.
6. Minimally Invasive: An additional key advantage of dry needling is its minimally invasive nature. The thin needles used in the procedure cause minimal discomfort and do not involve the use of medication or injections.
5. Complementary Approach: Dry needling complements traditional physiotherapy approaches - it can be integrated into a comprehensive treatment plan tailored to individual needs, enhancing the effectiveness of other techniques such as exercise therapy and manual manipulation.
Dry Needling Newcastle
Ultimately, dry needling can be a valuable technique within physiotherapy, offering a range of advantages from pain relief and improved muscle function to faster recovery and management of chronic pain. For more information about dry needling in Newcastle, consult our qualified physiotherapists, or book online today.